The Jerusalem Marathon on Friday was incredible!
Four members of my immediate family and myself ran in the Jerusalem Marathon.
Well, at least part of it. We did the 10K route.
But what made the run so incredible is that I actually ran it with, not only four, but WITH 150 members of my family.
Every one of the 150, whether a kid from our Youth or Young Adults Division, a member of our bereaved parent support group, a counselor or volunteer, staff, or supporters of OneFamily from around the world – each runner came together as OneFamily to support Israel's victims of terror.

There were more than 22,000 people who ran the various routes through the streets of Jerusalem.
But our presence was different than all the rest. We ran as one family unit, everyone knew the other, intimately, and like families usually do!
Different from all the other people running, our family made a lot of noise, singing our theme songs, and talking to our Family members who we haven't seen in a month or two.
Singing our songs through the streets of Jerusalem, at the top of our lungs, was an ecstatic experience. And other runners, running for other causes cheered along with us!

Across town, my wife, Chantal (OneFamily Executive Director) and all the staff members whom were not running in the marathon, were on the front steps of the OneFamily Center, greeting and encouraging all the Marathon runners passing by on the designated route.
Music blared from our center and Chantal called out the names of everyone she knew who ran by, including the Mayor of Jerusalem, Nir Barkat as he ran the full marathon and Natan Sharansky, the head of the Jewish Agency as he stopped by to cheer on the runners.

I want to thank everyone who ran with us in person and in spirit. We ran together with all of our family and friends that sponsored our run – supporting the families victimized by terror. All of us together – is what made it such a special day.
There's nothing like Family.
Next year we're going to do it much bigger and better. We will make it family reunion for 1,000 of us and we will be making a lot more noise!
View photos from the event, www.facebook.com/onefamilytogether!
Have a good week to you all,
Marc Belzberg
Chairman of OneFamily
SAVE THE DATE, THE NEXT JERUSALEM MARATHON: MARCH 21, 2014!
---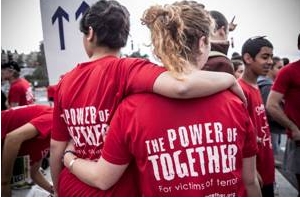 Join Team OneFamily for our next event, the New York City Triathlon!
Triathletes will Swim 1.5K in the Hudson River, Bike 40K along Manhattan's West Side Highway and run 10K through New York's famed Central Park.