GET INVOLVED – SCHOOL TZEDAKAH PROJECTS
A passion-based program designed for elementary students to develop empathy, build character, and ignite community-minded citizens. It's amazing what can happen when children have passion, belief in themselves and a feeling of accomplishment.
J-Serve provides high school students with the opportunity to fulfill the Jewish values of gemilut chasidim (acts of loving kindness), tzedakah (charitable giving) and tikkum olam (repairing the world). Across the globe, teens join with their community to make the world a better place.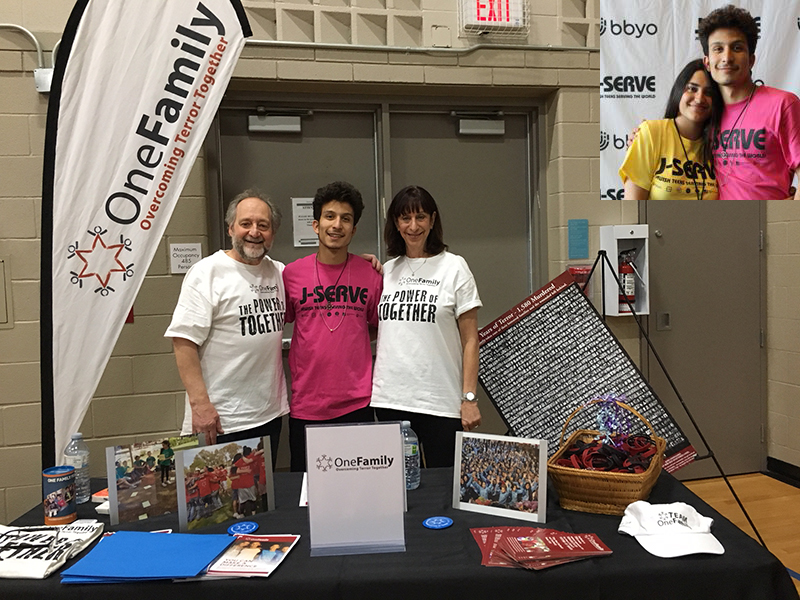 J-Serve Toronto takes place each April and often coincides with Canada's National Volunteer Week. OneFamily is proud to be one of the charities that many students choose to support.
For the past several years, teen volunteers have been writing letters and filming personal messages to individuals who have been impacted by terror and war.
This connection is invaluable for both the students and those touched by terror.
One Family Fund is committed to strengthening the bridge between Canadians and the heroic Israelis who want and need our support. As part of One Family Fund's efforts to build this bridge, we have visited with school children from a number of different Jewish day schools in Toronto, Hamilton, Montreal, and Ottawa.
Our visits are tailored to suit the needs of the school group while sharing the stories of terror victims and the efforts of One Family Fund. At various times we have been fortunate to have had guests from Israel visit schools with us and share their own personal stories – thus allowing the stories to become real and very tangible. The children are encouraged not to focus on the pain and suffering but on the lives that had been lived as well as being inspired by those who have risen from tragedy and moved on to make a positive impact on the world.
Our visits with the school children have inspired the individual students as well as their classes to undertake projects that have ultimately benefited other kids and their families in Israel. These projects have included anything from:
Creating fundraising projects in order to donate funds to camp programs as well as other special holiday events taking place in Israel

Putting together a shipment of stuffed bears to be handed out to victims of terror or their siblings to provide a means of comfort

Visiting a photography exhibition – "Victims of Terror" – and writing essays about the experience. Each student had an opportunity to connect with both the photographer as well as some of the victims whose images appeared in the photographs

Production of music CDs with all of the songs chosen and CD cover art created by a class group. The CDs and a cover letter written by each contributor were distributed to other children in Israel
The ultimate objective in the One Family Fund School Program is to create awareness for the children in Toronto of their contemporaries in Israel and what they might be dealing with while at the same time providing insight and inspiration AND to allow those in Israel to know that there are others in another part of the world who actually care about and are interested in their lives.
Please contact the One Family Fund office to discuss and arrange a meaningful visit to your school: 416.489.9687 info@onefamilyfund.ca