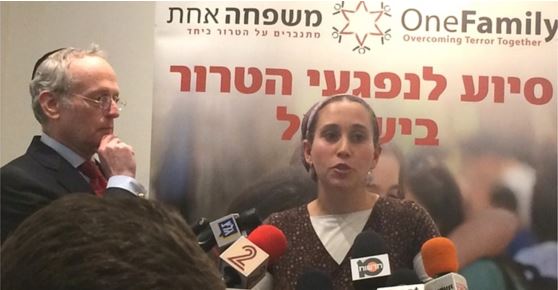 OneFamily Chairman Marc Belzberg and Taama Yaakovson (Henkin) at a press conference after the meeting with the Prime Minster.
OneFamily Meets Prime Minister Netanyahu: If Anyone Can Stop Terror, You Can
Thirty families of terror victims of recent terror attacks met with Prime Minister Benjamin Netanyahu last week to encourage the prime minister to take strong steps against terror and return a feeling of safety to the Israeli public. "If anyone can do it, you can," Taama Yaakovson (Henkin), sister of Rav Eitam Henkin, told the prime minister.,
OneFamily CEO Chantal Belzberg said, "OneFamily has never been involved in any political activity or taking one side or another of an issue about which there are two sides. But the issue we are here to talk about is a matter about which there are no two sides. There is 100% consensus. Terror must be stopped.
"Mr. Prime Minister, we have brought you the greatest gift one could buy," she continued. "Six legally defensible, actionable ways, to save Jewish lives from terrorism. compiled and drafted by Alan Dershowitz and Avi Bell. There is only one copy of this document. It is to be kept strictly confidential. It's time has come."
Chantal also noted the victims of terror had chosen to turn their mourning into meaning by fighting to prevent more victims of terror.
"I have learned from my many years of experience at OneFamily and from the thousands of bereaved individuals I've met, that the secret to healing a deep hole in one's heart, is to fill it with meaning and purpose.
"It usually takes time to arrive at that state of mind, but this unique group, for whom death is so fresh, have already channeled their mourning into meaning. They are on a mission to stop the terror. That is their Raison d'être, in the aftermath of their tragedy. They are here to beg of you to take the toughest steps that are available to you to end this madness. That's what the nation wants of you today."
To read the Jerusalem Post's coverage click here
Taama Yaakovson (Henkin), who's brother Eitam Hankin was killed along with his wife Naama in front of their four small children, urged the prime minister to deal with the culture of incitement in the Arabic educational system.
"The state of Israel has overcome many waves of terror through the years, but this wave is entirely different," she said. "It's not terror organizations sending people to commit attacks. Instead, a youth decides to whip out a knife from his mother's kitchen and head to a nearby street and injure a child. The act is reinforced online and among his classmates.
"He decides to injure a child not because of a personal conflict and not because of ideology, but rather because of one clear reason – because his community has educated him that it is morally correct and good to murder "a Jewish child."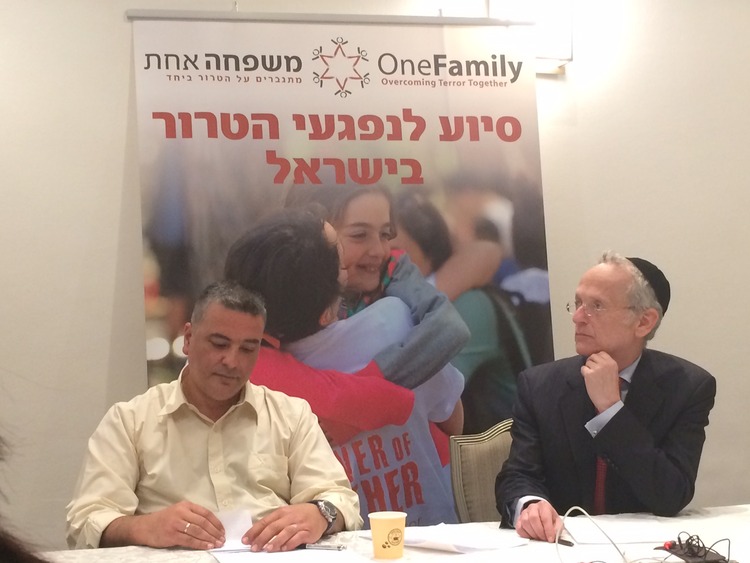 Doron Mizrachi, whose son Ziv was murdered in November in a stabbing attack and whose brother Alon was killed in a suicide bombing at Hillel café in Jerusalem, called on Mr. Netanyahu to impose effective punishment to increase deterrence.
"Mr. Netanyahu, you have the strength to do something for the nation to bring back our lost respect and the power of deterrence," he said. "Three months have passed since Ziv was killed. And the home of the terrorist Jamal Ahmed Tah, still stands.
Why? Why does it take so much time when I was not given any time at all?
"We, as a group of families, demand that the homes be destroyed within 48 hours – an evacuation of all household items belonging to the family and an immediate destruction of the house.
"How can we bring this chapter to an end, you ask? The answer is only by bringing back deterrence. What is deterrence? It is knowledge that as the result of an act of terrorism, his family will be expelled and deported into Gaza or another neighboring Arab country. We must not be concerned about what the world will say. We are at a time of war."
Dvir Litman, son of Rav Yaacov and brother of Netanel, both killed when terrorists fired on their car on the way to celebrate the Shabbat before their daughter's wedding, called on the leadership to find a solution to the terror.
"I was 16 years old when I saw my father being murdered," he said. "That is the worst thing any person can ever imagine seeing. Therefore, I personally will not be able to tolerate another case like this one. To ensure there will not be more stories like mine, we must put an end to the incitement.
"The reason I have to live with such a memory, the last memory of my father's body being in such a bad condition, is the incitement.
"And due to this incitement I have my brother's last words etched in my mind.
"Your honor, Mr. Prime Minister, if the terrorist's families would know that what lays before them after their children commit a terrorist attack, that they will be expelled from the state of Israel, the families will do everything to prevent them from going out and committing an attack. This is something that can possibly prevent the next attack, all to prevent having yet another victimized family sitting by our side."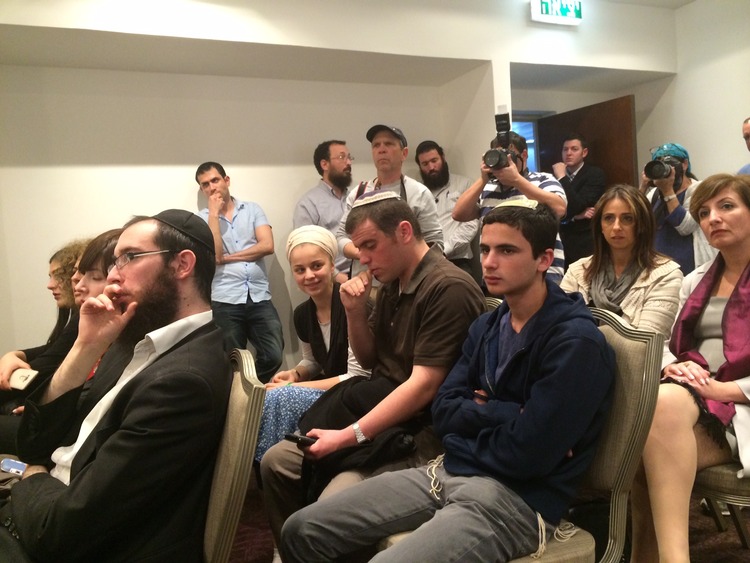 Stanislav Yaakobowitz, whose son Benjamin Yaakobowitz was killed in a car ramming while serving as a border policeman, told the prime minister that the danger has spread to everyone who walks the streets of Israel.
"We have never been a punching bag, and now unfortunately the entire nation feels like one," he said. "I voted for you because self-confidence is important, without self-confidence it doesn't matter how much the Tnuva cottage cheese costs or a town house cottage on a moshav.
"We all really want to go out on the streets of Raanana, in Jerusalem or in Otniel without being afraid! My children are scared, my friends are afraid to send their children to the IDF (at the age of being drafted). My parents tried to convince me to not come to Jerusalem – It's too dangerous!"
Devorah Gonen, mother of Danny Gonen, who was murdered while out on a hike, called for an end to the public recruitment that leads to terror.
"Mr. Prime Minister we know that you are capable of taking charge and making this real and changing the public atmosphere," she said.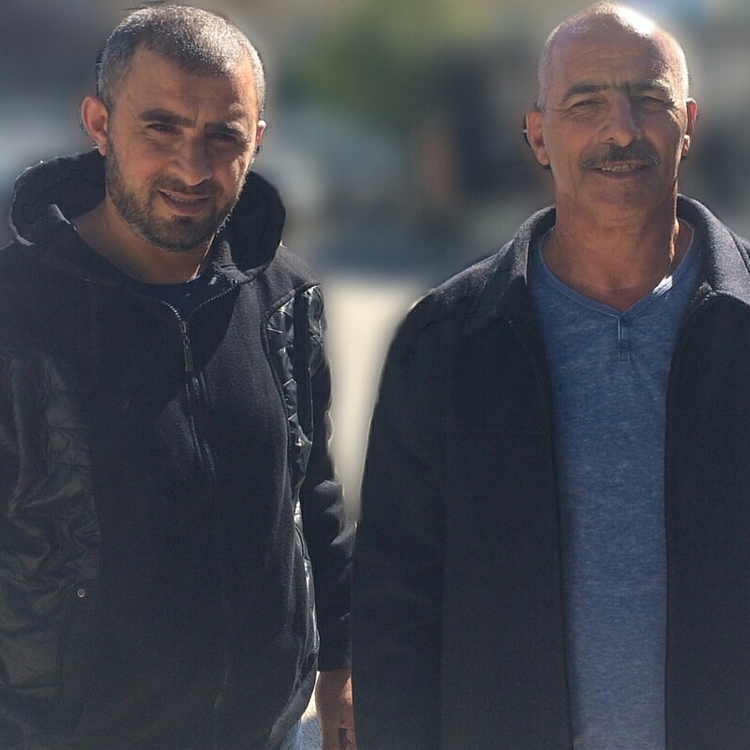 "We are well aware of the pressure and the opposition this processes faces from public figures who see themselves as being responsible for Israel's morality and justice.
"A saying came up in a discussion between us, from the sources, "All who are merciful to the cruel will ultimately behave cruelly to the merciful."
After hearing the voices of the victims, Mr. Netanyahu assured the group that the government is taking the demands seriously. "These stories are all heart breaking," he said. "We are a 100 year war against terror. We are constantly fighting and winning. We will beat this wave as well.
"I am being frank with you and not trying to make things sound nice. We are affected by the worldwide maelstrom of Islamic radicals."
Photo Captions:
Chairman Marc Belzberg & Taama Yaaovson (Henkin)
Victims of the recent wave of terror
Doron Mizrachi & Marc Belzberg (at press conference after the meeting)
Dvir Litman, Sarah Tehiya (Litman) & Ariel Beigel
Victims & reporters at the press conference after the meeting
Gazi and Razi Shaaban, brothers of Ayman Shaaban, killed in the terror attack in Tel Aviv