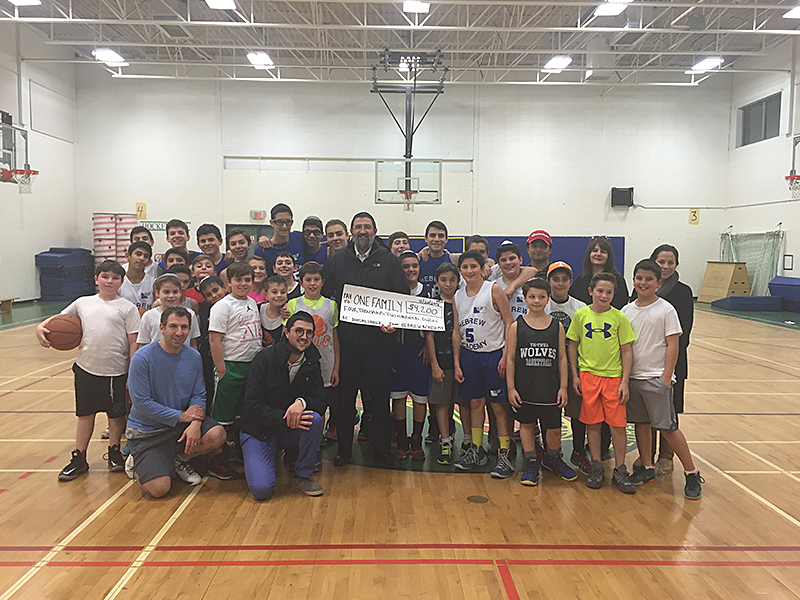 The wave of deadly violence in Israel is being felt keenly by students and families of Hebrew Academy in Côte St. Luc, the home of a brother of one of the victims.
One of the high school's basketball teams raised $4,500 for the grieving Benitah family, and was honoured to be able to present the cheque to Natan Benitah, brother of the late Aharon Benitah (Bennett), and their father Michael, who was visiting from Israel.
The school held a moving tribute to the memory of the 21-year-old who was stabbed to death by a Palestinian in Jerusalem's Old City on Oct. 3. Aharon was trying to shield his wife and two young children from the attacker, as they walked toward the Western Wall to pray after the end of Shabbat.
Members of Hebrew Academy Heat's midget basketball team and Grade 5 boys collected the money to help out the widow, Odel, and the children, a baby and two-year-old. She was seriously injured, suffering 17 knife wounds, and the older child was shot in the leg.
Rabbi Nehemia Lavi was killed in the same attack.
Aharon's parents were in Montreal at the time visiting Natan.
The family flew to Israel immediately after Shabbat to attend Aharon's funeral. On the eve of their departure, hundreds of members of the community gathered together in a show of support outside Natan's home, including Hebrew Academy students.
"After seeing my players arm in arm singing and praying together at the vigil, I realized they wanted to do more this year than just play basketball," said Heat coach Eric Lasry, a lawyer who is a Hebrew Academy alumnus and parent.
He proposed that they volunteer their practice time each Sunday to create a basketball program for the younger Grade 5 boys, with all proceeds going to the Odel Banet-Benitah Fund, established by Aharon's uncle under the One Family UK umbrella.
On Nov. 22, Michael and Natan visited Hebrew Academy where they met the players, along with Lasry and fellow coach Natan Schecter.
Michael thanked the players for their kindness and told them they were all righteous. "As long as you remain a team and work as a team, you will succeed," he said.
"I am so proud of my players for donating their time and money, and appreciative of the financial support of the families of the Grade 5 boys and others," said Lasry. "Even after we presented Mr. Benitah with a $4,200 cheque, the players added another $300 of their own money to bring our total to $4,500."
Shauna Joyce, the elementary school principal said, "This fundraiser was truly an opportunity for our students to give back in a meaningful way. It was amazing to see our high school midget team, along with their coaches, giving their time to support a family during such a difficult period.
"Our elementary students participated in the initiative as well. For them, I think the true benefit comes from seeing our high school students be positive role models."
For executive director Linda Lehrer, "to be able to personally present the Benitah family with our donation was so special. "Beyond relaying our tremendous grief and sharing words of comfort and solidarity, our students were able to see the impact of their grand gesture first-hand from the beneficiaries of their kindness."