DEAR ONE FAMILY FRIEND,
A fragile cease fire is now in place, the result of Operation Pillar of Defense, after Hamas militants recently fired more than 1456 rockets and artillery into Israeli population centres, including Tel Aviv and Jerusalem. killing four civilians, two Israeli soldiers and injuring more than 252 Israelis. A bus bomb attack in Tel Aviv that wounded over 20 civilians received the "blessing" of Hamas. As a result of these most recent attacks, One Family has added hundreds of new terror victims to the more than 10,000 victims from previous years that we continue to help.
Every day, One Family helps Israeli victims and their families cope with the devastation that these attacks wreak-whether it be physical, psychological, and/or financial.
As the year draws to a close, we urgently need your help so we can continue helping all Israeli terror victims who need our help. With your generous donation, One Family can continue to heal all Israelis who are wounded, traumatized, or bereaved by the ravages of terror.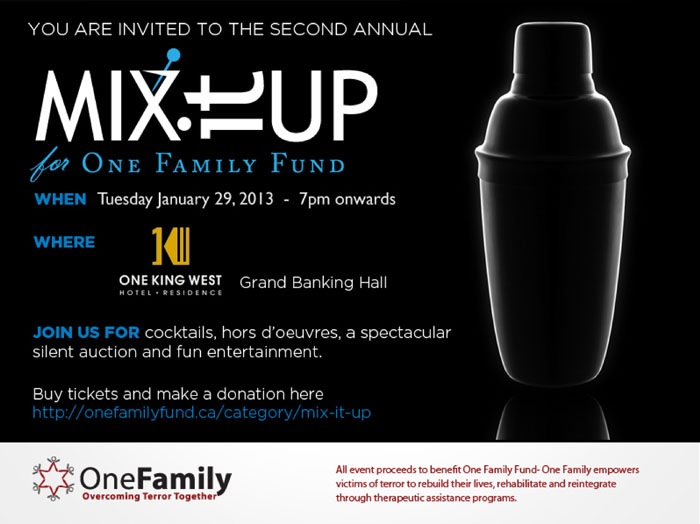 One Family would like to thank all the individuals and organizations that did something special to support our efforts to assist victims of terror in 2012, including:
Carole Tanenbaum and Stefanie's
Frame of Mind
Jeff Morrison Fine Jewellery
The teams at JNF, UJA and Daniel Warner for organizing The Pitch for Israel
Solidarity with Israel-Jillian Windman
Grand Slam ProAm-David Granovsky and Janice Segal
Israel Run-Bob Watson
Yonge Vision
Holy Blossom Temple
Roots Canada
ONE FAMILY FUND CANADA WISHES YOU AND YOUR FAMILY HEALTHY AND HAPPY HOLIDAYS!