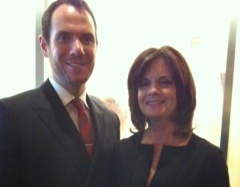 Last year, One Family Hike veteran Shira Benson and her son Jordan were part of a fabulous team of volunteers who helped to ensure the event's success. This year Shira is working tirelessly, co-chairing the event with Pam Foreht and collaborating with Jordan to create an even better experience for event-goers. "I was deeply moved by the victims that I connected with on the Hike," said Shira, "and I wanted to continue giving back to them after I returned home. Mix it Up afforded the perfect opportunity." Jordan Benson, a producer, absorbed his mother's passion for the cause and has contributed his time and expertise, helping with the technical side. "I felt passionate about One Family and wanted to do something at a grassroots level. This year's event at the beautiful , spacious One King West will be even more exciting than last year's!" he added.
BEAT THE WINTER BLUES with a night of great food, drink, entertainment, silent auction and virtual graffiti, all while helping Israel's victims of terror rebuild their shattered lives.
Don't miss MIX IT UP!