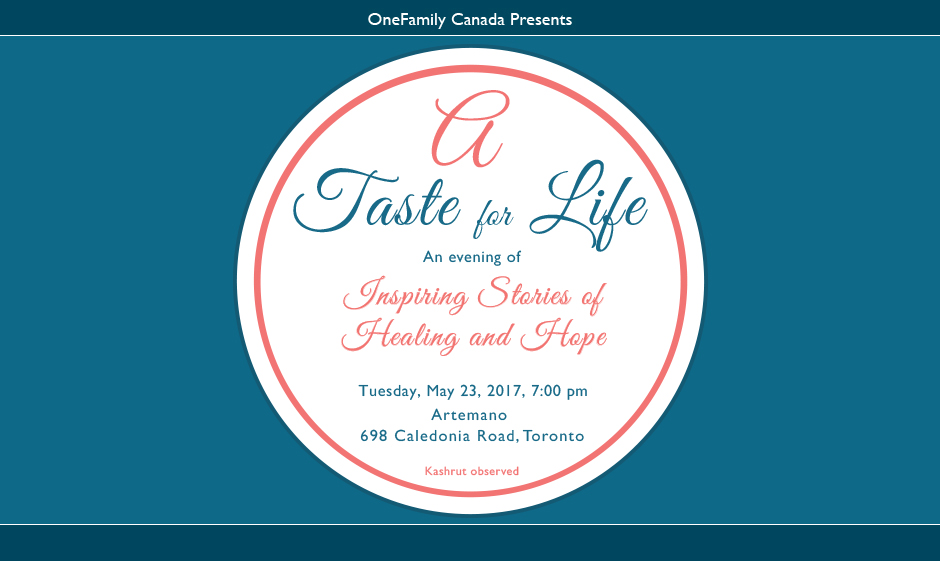 Please join us at A Taste for Life 2017 and experience an evening of inspirational stories of healing and hope. A Taste for Life will feature a very special array of guests, including Michal Belzberg whose extraordinary act of tikkun olam (healing the world) at the age of 12, led to the founding of OneFamily in Israel. Today, OneFamily is a leading Israeli humanitarian organization, which supports the emotional, physical and financial needs of more 12,000 people whose lives have been shattered by terror.
You will have the opportunity to meet Michal and a group of brave and inspiring young women whose lives have been forever impacted by terrorism.
The evening will take place, once again, at Artemano's exotic wood furniture and home decor store, and will feature delicious food, musical entertainment and an exciting silent art auction of works inspired by the stories of our special guests. To honour Michal and these courageous young women, as well as their lost loved ones, all proceeds from this event will go towards OneFamily's Therapeutic Youth Programs and Camps in Israel.
Pam Foreht | Samara Freedman | Joni Quintos | Carol Zweig
Artemano
698 Caledonia Rd.
Toronto, Ontario M6B 3X7
We thank Artemano for their incredible generosity in being our Event Venue Sponsor.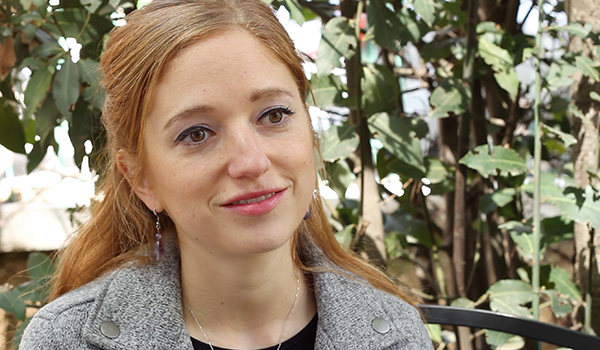 Michal Belzberg
In August 2001, 12-year-old Michal Belzberg was preparing to celebrate her Bat Mitzvah when a shocking suicide bombing at the Sbarro pizzeria rocked the nation and beyond. Fifteen civilians were killed, including seven children and a pregnant woman, and 130 were injured. Through a selfless act of kindness, Michal asked her parents to cancel her Bat Mitzvah and to raise funds instead to help the impacted families cope with the aftermath of the bombing.
Sadly this was just the beginning of horrific terror attacks to come. Michal's parents, Marc and Chantal, then decided to make this their life's work and OneFamily Fund was born. Michal's initial act of tikkun olam has gone on to create hope where once there was none for so many people.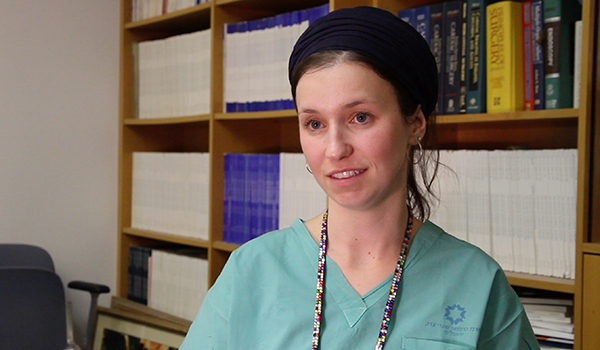 Shayna Applebaum
Shayna's father, Dr. David Applebaum, and sister Nava, were killed in the 2003 Cafe Hillel suicide bombing, when Shayna was 14 years old. Nava was to have been married the day after the bombing.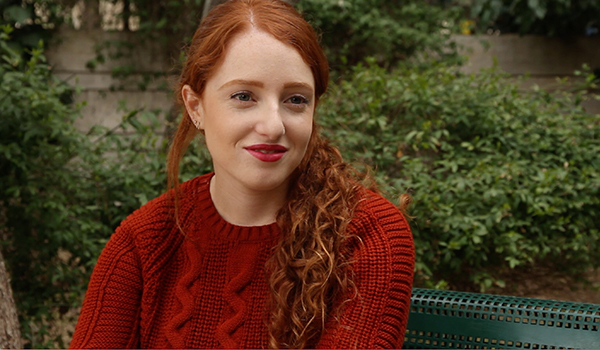 Renana Meir
Just over a year ago, Renana saw her mother, Daphne, murdered right before her eyes, in the family home. Daphne's heroic actions, during the assault, prevented her other children from being attacked by the terrorists.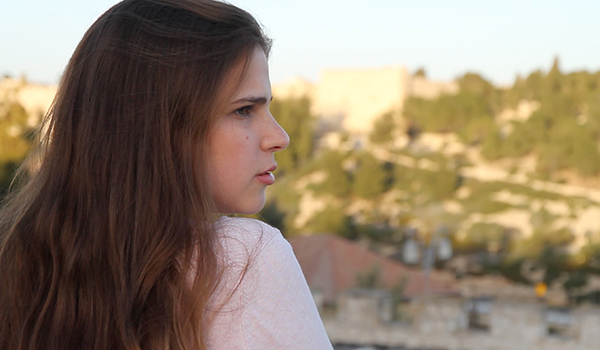 Yaffa Rothman
Yaffa's father, Chaim (Howie), who was originally from Toronto, was critically wounded in the Har Nof synagogue massacre and spent almost a year in a coma before he died in October 2015.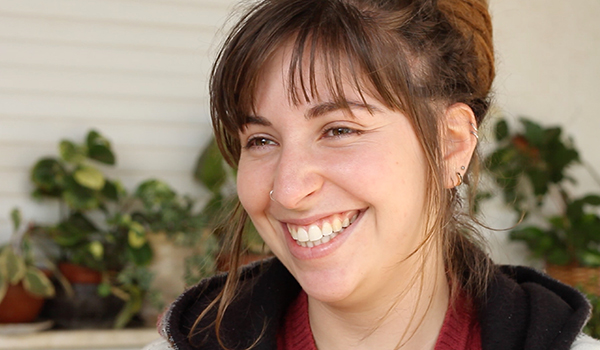 Mayaan Etzion
Mayaan's father, Zeev, was killed by a mortar shell which hit the kibbutz just one hour before a ceasefire during Operation Protective edge.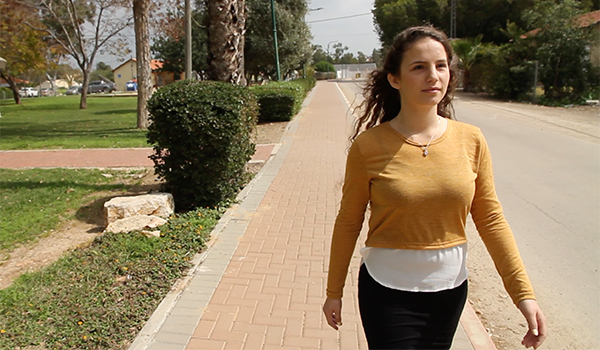 Orit Mark
Orit's family was attacked while driving home. Orit's father, Rabbi Michael (Miki) Mark, was killed in the attack, while two siblings were injured, and her mother, Chavi, a native of Hamilton, Ontario, was shot through the eye and will be permanently injured.
Donate Now
I cannot make the event...
but I would like to make a donation to support victims of terror in Israel
Donate Now
A Taste for Life Sponsorship
Please consider one of the following levels of sponsorship. For more details on sponsorship, please call Gary Tile or Jennifer Baker at (416) 489-9687.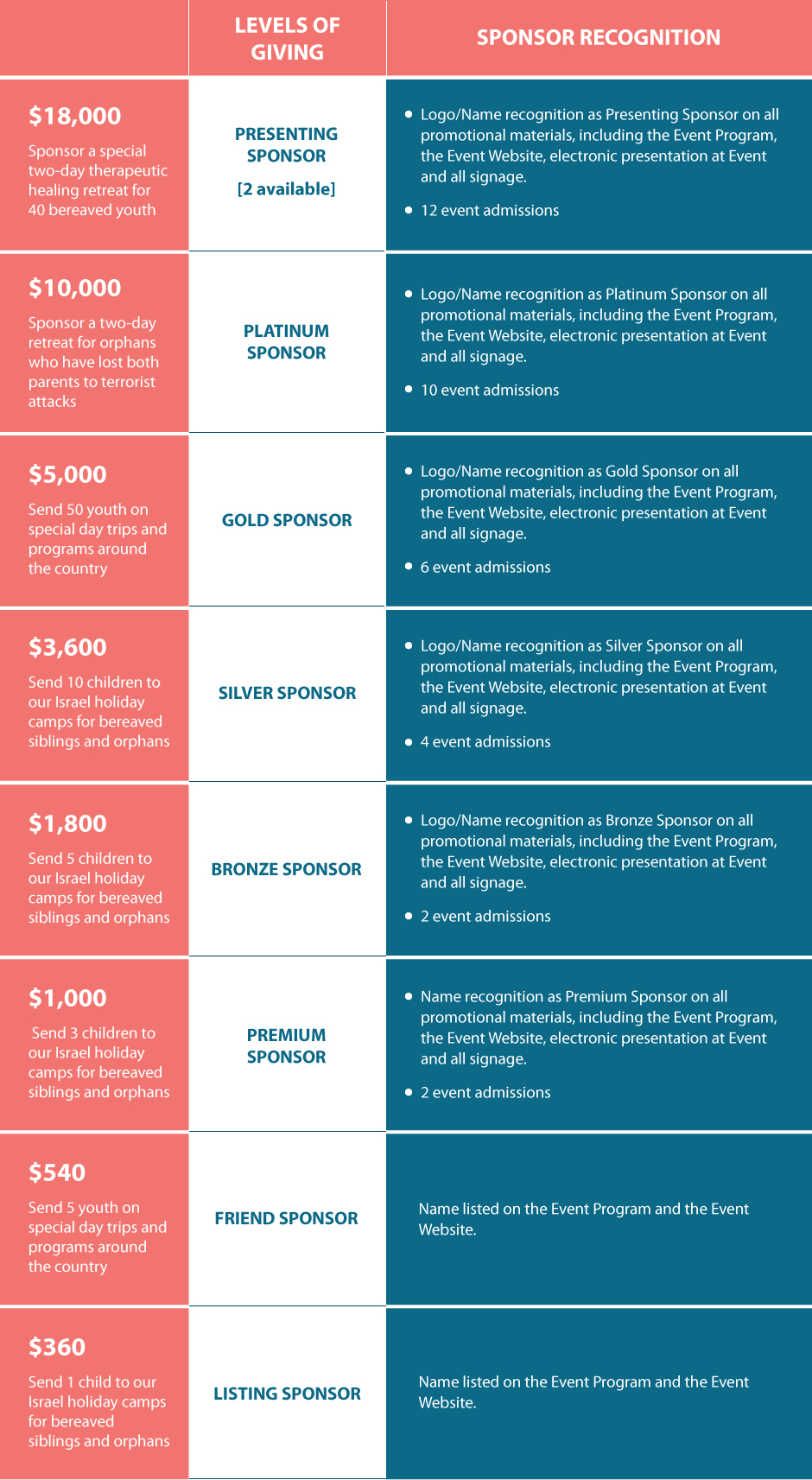 *Tax Receipts will be issued for the maximum allowable by Revenue Canada Agency.
Sponsorships can be in a personal name for a tax receipt or invoiced to companies as a business expense.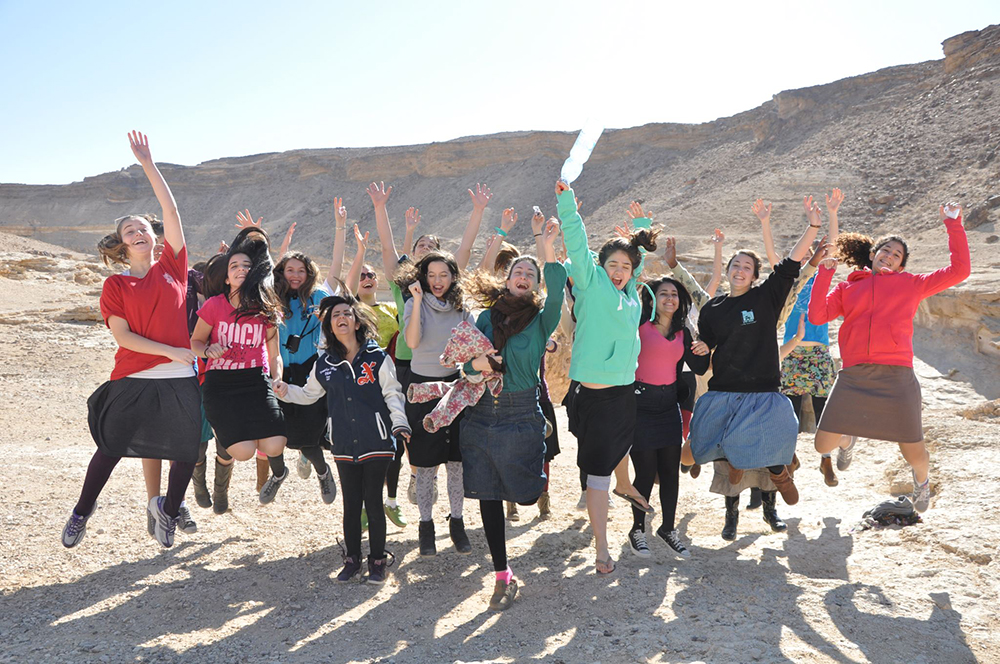 OneFamily Fund is the leading national organization in Israel dedicated to helping victims of terror and war get back a sense of normalcy by providing emotional, financial, legal and physical support through a broad range of programs, including special youth camps and healing retreats, unique youth programs, therapeutic programs and personalized support. OneFamily has been at the forefront of working with terror victims in Israel for more than 13 years and supports the needs of more than 12,000 victims and their families. OneFamily Fund Canada is a fully CRA-accredited Registered Charity, governed by a Board of Directors. It has the prestigious
Imagine Canada
designation, which speaks to governance, financial and operational integrity.